invite Drew to speak
Does your group need to be inspired?
From time to time we all need some good old fashioned inspiration and encouragement!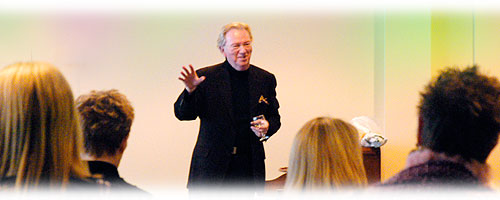 In this crazy, hyper-competitive world everyone is looking for fresh solutions and new ways to stay inspired, accelerate their potential and find more joy in each day.
An energizing and dynamic speaker, Drew quickly captures his audience - challenging and motivating them to step further out of their comfort zone, and open up new possibilities and reach for greater success.
Drawing on a wealth of hard-earned personal and business experience and referencing highlights from his books, Life Without a Parachute and The Tug of the Kite, he shares the many lessons and the ensuring wisdom he discovered on the road to personal growth and renewal.
Highly intuitive, yet down to earth, Drew paints a brightly coloured, engaging narrative to which many in his audience can relate - as they work through their day, living their personal destinies, striving to do and be the best in their personal and professional lives.
There is a Q and A session at the end of his presentation, providing an opportunity for audience participation.
For further information about:
Speaking fee and availability contact info@drewsimmie.com or
text/tel 1.416.450.8867 Monday to Friday 9 to 5 EST