December 14, 2017
Saying Thank You
When we give cheerfully and accept gratefully, everyone is blessed. Maya Angelou.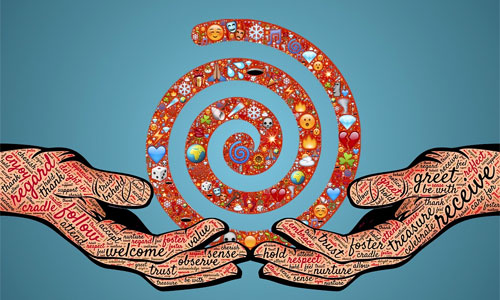 Gratitude is the inward feeling of a kindness received. Thankfulness is the action of expressing your feelings for the kindness shown you.
Living gratefully is an important link to those qualities of heart and mind which tend to lend themselves to simplicity and sustainable motivation in an ever-changing, fractious world.
Developing an attitude of gratitude for what you have rather than what you don't can unlock the fullness of life, bringing with it a sense of peace and equanimity.
Simple acts of kindness such as lending a helping hand to someone less fortunate or aiding a group of people in distress, or even something as small as flashing a smile to a stranger can have a positive effect on our long term moods.
Developing an attitude of gratitude for everything that happens to you, knowing that everything in life is an experience to learn from and grow more, is a step forward to achieving something bigger and better than your current situation.
Something, indeed, for which to offer a heart felt thank you, especially at this time of year.
Hmmm…
Thinking about starting out in a new direction in the New Year? Need some pointers? Like me to speak to your group? I am easily reachable. Text/call 416.450.8867 or email drew@drewsimmie.com